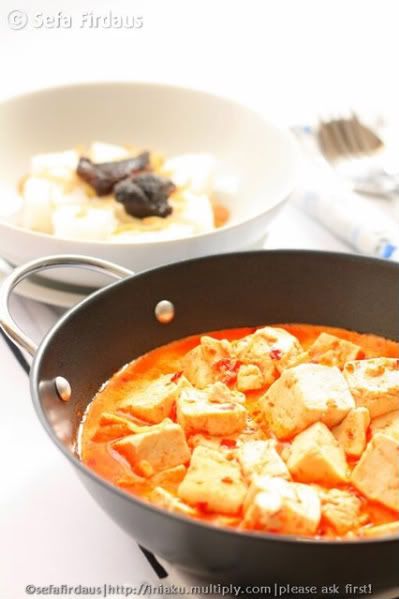 Amazing things happen when you are far from your mom's kitchen like suddenly you can concoct a recipe of your fav food just by remembering the taste. It happened to me couple years ago when I craved for my mom's sambel goreng tahu. Though I made it in the simplest way, but the taste was similar to the one that I used to eat in Jakarta. I was so happy. Yay!
As I've told you here that sambel oelek is my savior, in this recipe I used it again. Hope my dear friend Lore, a creator of Original Recipes Event, wont get bored of my using sambel oelek in every recipe I submitted for her event. Sorry Lore, just can't help it.

I can't remember how many times I made this food, what I can recall only that I haven't photographed it. Last Friday while waiting for my rendang to be cooked, I took a chance to do it. It was a tough photo session, since I have to go here and there between the kitchen and living room to take care of my rendang.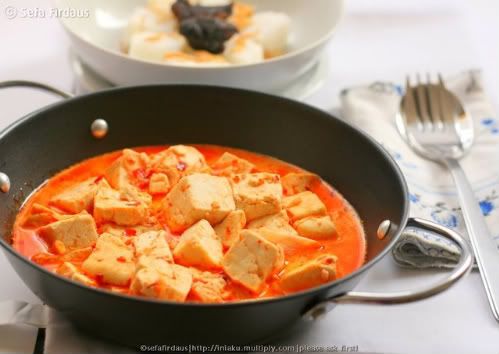 As I mentioned above that this is a simplest food, since my mom used to make it with tempeh and beef. Sometimes I cooked it with shrimps, but most of the time just tofu, quick and easy and the most important my better half like it very much.

Hope this recipe can be useful for everybody. This one is for you Lore ;)



If anybody needs my mom's recipe, I will post it later after I call her and ask for it :-D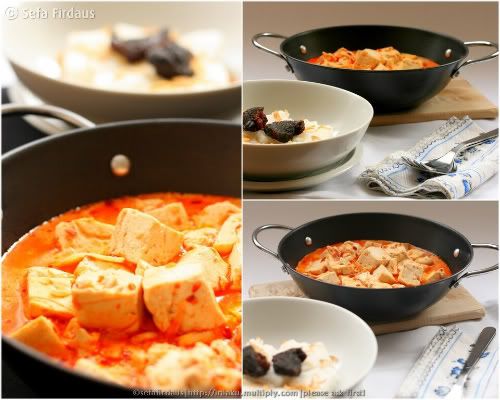 Sambel Goreng Tahu (Tofu Cooked in Spicy Coconut Milk)


Recipe by me



Ingredients:


2 block of fresh tofu, diced

*


2 tbsp of sambel oelek
6 shallots, finely sliced
3 cloves of garlic, finely sliced
2 cups of coconut milk
2 cups of water
½ block of beef broth (can be substituted by chicken/vegetable stock)
Salt and pepper to taste
Cooking oil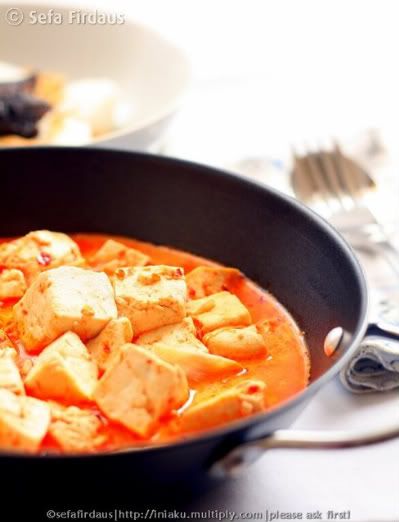 Method:


1. Heat oil in a wok pan. Sauté shallots and garlic until fragrant.
2. Add sambel oelek, stir until cooked.
3. Fold in tofu and cook for a while.
4. Pour into coconut milk and water. Mix well and add beef broth. Let it boil over medium heat.
5. Season with salt and pepper. Mix well and remove from the heat.
6. Serve with steamed rice or rice cake.



Note:




*

When using preservative tofu (normally sold inside the bag and has long expire period), better to fry it first half cooked.