I love Chinese foods, that's why every where we traveled around, there would be one time (more actually) dined out in a Chinese restaurant. My hubby always gave me a
I-disagree-but-since-I-love-you-I'm-in
face every time I took him to eat Chinese foods. He loves them though but he just doesn't like the idea eating them every where every time. He likes to try the origin and special food from each city we visited, to experience something new. Me as well, but I feel incomplete if one day from our traveling days without eating Chinese foods *LOL*
Fairly I like to eat homemade Chinese food instead of dining out in a restaurant. They used too much mono sodium glutamate (MSG). It made me dehydrated (ya I know, I exaggerate it). I mean I always felt very thirsty after dining out there. Me myself don't like to use MSG when cooking and if I have to use, e.g. instant beef broth (which contains of MSG too), I always reduced the amount. (But when you are traveling, why bother cooking!)

One of my favorite is

Mun Tahu

. I didn't remember how many times I've made this meal, but never got bored of it. I got the recipe from my lovely multiplier friend. She is a good cooker and so far, her recipes have never failed to satisfy my appetite.
I made some modification in this recipe by using my own measurement and substituting the use of ang ciu with mixture of light soy sauce and palm vinegar. The original recipe called Mun Tahu Special since it mixed minced beef with mince shrimp, mine was without shrimp, that's why I named it simply Mun Tahu.


I made this meal last Friday for lunch. To tell you the truth, when I cooked it, I was totally exhausted since I only slept for couple hours after coming home from working in the morning (this week I got night shift from 10pm to 6am). Because of that, I almost canceled my plan to join the event created by Rita of Mochachocolata-Rita

for celebrating her 88th post

, A Chinese Take-out Party & Lucky Draw. But a promise is a promise! I have to keep it and also I have a visitor staying at my home that I have to feed. So, I gathered the power to cook and photograph the dish. I ended up with 100 sets of Mun Tahu for an hour! (Frankly, I'm not good in food styling and food photography, that's why it took me 100 sets to finally give up, hahaha).

Rita, happy 88th posts! Hope you'll like my food.



Recipe source:

Mun Tahu SpeSial, To Love and Be Loved.



Ingredients:


300 gr silk tofu, diced
200 gr minced beef
2 stalk of green onion, finely sliced
4 cloves of garlic, finely minced
Cooking oil
100 ml water



Spices:
1 tbsp oyster sauce
A mixture of 1 tbsp light soy sauce + 1 tbsp palm vinegar (as substitution of ang ciu)
2 tbsp fish sauce
1 tbsp light soy sauce
1 tsp granulated sugar
1/2 tsp white pepper powder
1 tbsp cornstarch, dissolved in 200ml water
1 tsp sesame oil (optional when desired)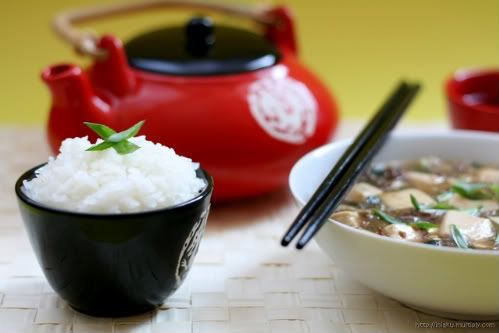 Directions:
1. Heat the wok until smoke out. Add cooking oil.
2. Add minced garlic, sauté until fragrant and golden brown.
3. Add minced beef. Stir fry until the color changed. Season with all the spices except cornstarch and sesame oil. Cook until 3/4 cooked.
4. Add tofu and green onion. Stir carefully until the spices well blended.
5. Pour into water, cook over moderate heat for about 5 minutes. Add cornstarch mixture, mix well until boiling and thickened. Add sesame oil, mix to blend. Remove from the heat.

See some photos from 100 and me being an amateur photographer in this album: Mun Tahu - Caught in The Act.