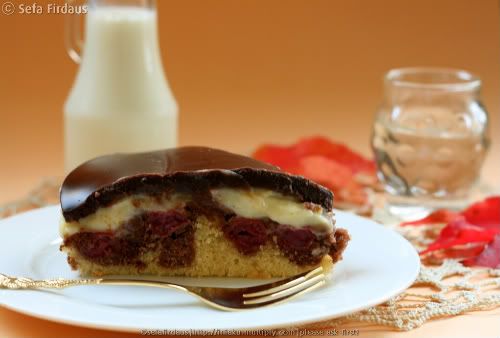 I always try my best to join any event that concerns about diseases like cancer (like I posted
here
,
here
,
here
and
here
). I just feel like I have to do something, though it's only joining a foodie event.
Jenn
,
The Leftover Queen
, who introduced me to this event through her
Apple-Chard Quiche
. The event called
Baking for Breast Cancer Awareness
and hosted by
Lei
from
Cilantro and Lime
. It will due by 28th October 2008 and the round-up will be posted on 31st October. So, you still have time to prepare something for this event.
Every woman is at SOME risk for breast cancer—this is merely the "risk" of living as a woman. But there are many risk factors that can make one woman's picture differ substantially from another's. When you understand your own particular risk profile, you are in a better position to manage it and don't have to fear the unknown.To read more, click
this link
.

When talking about breast cancer,

Rima Melati

, the famous actress from Indonesia, is the first person comes to my mind. She was diagnosed with this disease and she fought with it and won. She went to Netherlands for the treatment, and her husband (also an actor) accompanied her there. Her story and her spirit in winning against this disease has inspired and motivated not only women who got breast cancer, but also people with cancer. Now she is active in Yayasan Kanker Payudara. Doing campaign to inform Indonesian women how important it is to check their breast regularly in order to detect the early signs of this disease.

The sadness fact is not all Indonesian women who have breast cancer can afford the treatment which is very expensive (and so do other Indonesians who suffered from cancer). Some of them are just waiting for the miracle or hopeless, since they are poor. I hope I can do more in the future to help them fighting with this disease.

Now let's talk about

Donauwelle

. Donauwelle can be translated as The Wave of Donau River (Donau = a name of a river in Germany,

Welle

= wave). The cake itself looks like a wave since between the white and chocolate cake, you put sour cherries then topped with vanilla cream and chocolate layer. Yummy!

I baked this cake 2 hours before midnight after getting some tips in making ganache for glazing it. The ganache was perfect (thank you Sheil), the problem was only with the vanilla creme. It made from custard powder (in Germany, it's known as

puddingpulver

) and it supposed to stand for some minutes before pouring it over the cake, but I was too sleepy to wait whilst I still have to do the ganache. But overall, it tasted heaven. I like it very much and so does my hubby. He ate half of cake (I used Ø26cm spring form - normally it used a rectangular baking form) and now already crave for it when seeing the pictures I uploaded in PhotoBucket.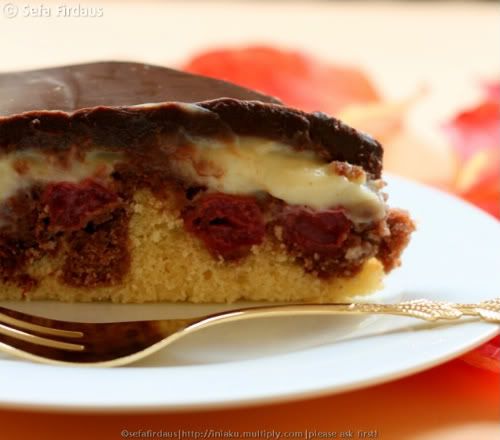 This cake is not good for one who is on diet, but it contains cherry that has some facts like:
- Studies have shown the cherry fruit to have plenty of health benefits. These are known to provide pain relief for people who suffer from arthritis. It is said that eating 20 tart cherries in a day can prove to fight inflammation effectively.
- Red cherries are also very high in melatonin. These are known to destroy the toxins that cause diseases. The cherry fruit is also high in antioxidants that help to fight cancer and heart disease.
- The cherry fruits are low in cholesterol, fat and sodium. They are also a very good source of fiber and Vitamin C.
- The cherry fruit extract contains antioxidant flavanoids and are used in many tablets and capsules. These capsules are used to support the pH levels of the body. (Source: Buzzle.com - Cherry Fruit Facts)

Thus this cake is perfect for Baking for Breast Cancer Awareness event. The recipe I got from my best friend Nana who got it through a cooking show in a television. Thanks Na.





Donauwelle


Recipe by Nana Heitmeier, modified by me



Ingredients:




Cake:


100 gr butter - room temperature
100 gr granulated sugar
3 eggs medium size (Nana used 2,5 eggs from 2 eggs + 1/2 part of beaten egg)
150 gr all-purpose-flour
7,5 gr baking powder
1 tsp cocoa powder
1 glass of sour cherries (around 700 gr), drained



Vanilla Cream:


1/2 liter milk
1 pack of custard powder (puddingpulver) around 37 grams
150 gr butter
100 gr granulated sugar



Ganache:

(Recipe from Sheila)
250 gr dark cooking chocolate, finely chopped
200 gr whipped cream
30 gr butter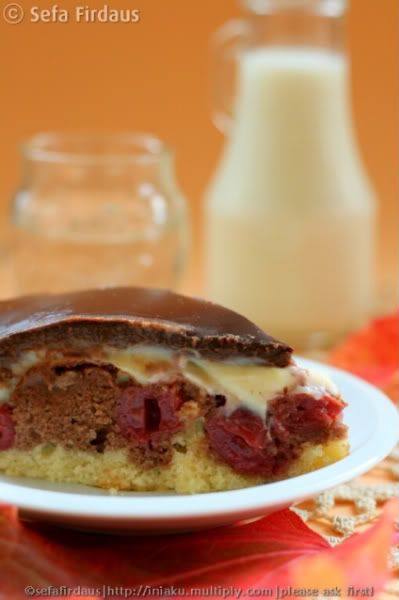 Directions:




Cake:


1. Heat oven to 200°C. Greased a Ø26cm spring form and line with a parchment paper.
2. Combine flour and baking powder in a bowl. Set aside.
3. Combine butter and sugar in a mixing bowl and cream using mixer. Gradually add egg while mixing and then add flour mixture gradually by sieving it. Mix using spatula or wooden spoon to form a thick batter.
4. Divided the batter into two. Add cacao powder to half part of the batter.
5. Spread the white batter evenly into the baking pan. Top with chocolate batter evenly. Put cherries on top and push it halfway to the batter.
6. Bake for 20-25 minutes or until a toothpick inserted in the middle comes out clean. Cool it and set aside.



Tips from Nana:


Since the batter is very thick, put the batter in a piping bag then spread over the pan then make it even.



Vanilla Cream:


1. Take 5 tablespoons of milk (from the half liter milk), mix with custard powder and sugar. Mix well until dissolved.
2. Cook the rest of milk in a sauce pan over small heat. When it almost boil, remove from the heat then add custard mixture gradually and stir to avoid the lump.
3. Return the pan to the heat, continue cooking and stirring continuously until thickened. Turn off the heat and add butte into the sauce pan. Mix until melted.
4. Continue stirring the cream until warm, then pour over the cake. Let it stand until set (hardened).



Ganache:


1. Bring to a boil whipped cream in a small sauce pan over medium heat. Turn off the heat.
2. Add dark cooking chocolate, mix until all incorporated.
3. Add butter and mix until melted. Whisk until smooth.
4. Let it stand about 5 minutes and pour over the cake.

Refrigerate the cake before serving.