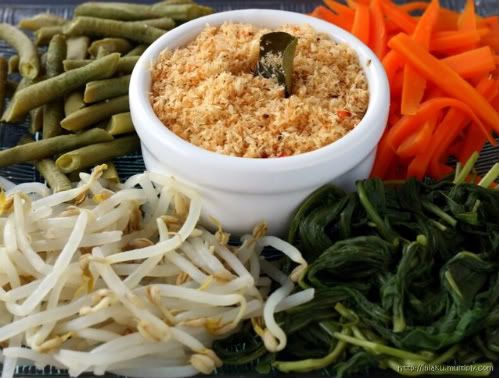 My hubby is gradually become Indonesian. He likes Indonesian foods like real Indonesian *LOL*. When he craves for some food, he will keep on asking me to make. Unluckily, me is lazy and he has to give it up.
Though lazy, I always keep in my mind that he wants something. So when I have a chance (I mean when I can beat my laziness), I will make it. Then he will said "finally.. three years making urap" (it's a quote made by Stewie from Family Guy about Brian's progress in making his novel, except the finally part).
I'm not quite sure this salad can be considered as vegan food, since we used shrimp paste (terasi/belacan) for the spices. Some of vegetarians that I know, don't eat any kind of meat derivative. Ya, let them decide.. and when they disagree, they can omit the use of terasi.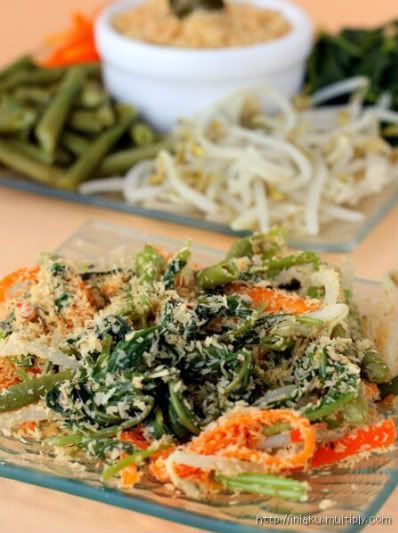 Urap contains green, yellow and white vegetables.


Green vegetables

contain chlorophyll, fiber, lutein, zeaxanthin, calcium, folate, vitamin C, calcium, and Beta-carotene. The nutrients found in these vegetables reduce cancer risks, lower blood pressure and LDL cholesterol levels, normalize digestion time, support retinal health and vision, fight harmful free-radicals, and boost immune system activity.

Orange and

yellow

vegetables contain beta-carotene, zeaxanthin, flavonoids, lycopene, potassium, and vitamin C. These nutrients reduce age-related macula degeneration and the risk of prostate cancer, lower LDL cholesterol and blood pressure, promote collagen formation and healthy joints, fight harmful free radicals, encourage alkaline balance, and work with magnesium and calcium to build healthy bones.

White vegetables contain nutrients such as beta-glucans, EGCG, SDG, and lignans that provide powerful immune boosting activity. These nutrients also activate natural killer B and T cells, reduce the risk of colon, breast, and prostate cancers, and balance hormone levels, reducing the risk of hormone-related cancers. (Read more on Color Wheel of Fruit and Vegetables at DisabledWorld[dot]com to get more information about the examples of those vegetables).



This urap is my entry for Monthly Foodie Multipliers (MFM) event with green vegetables as the theme and Dyah as the host. MFM is a monthly virtual potluck event held only for Multipliers (I think I better said Indonesian Multipliers).



Ingredients:


200 gr bean sprout, cleaned, pinched of the brown tail, steamed
100 gr water spinach (water morning glory), cleaned, cut, steamed
100 gr snake bean (yardlong bean), cleaned, cut, stemed
3 carrots, cleaned, cut julienne, steamed
10 lime leaves
200 gr desiccated coconut (using fresh grated coconut, is better)
100 ml tamarind juice



Ground Spices:


10 red chilies
1 onion
4 cloves of garlic
2 tsp kencur (lesser galangal) powder
1/2 tsp terasi (shrimp paste/belacan)
1 tsp salt
25 gr gula Jawa (palm sugar)

Cooking oil for sautéing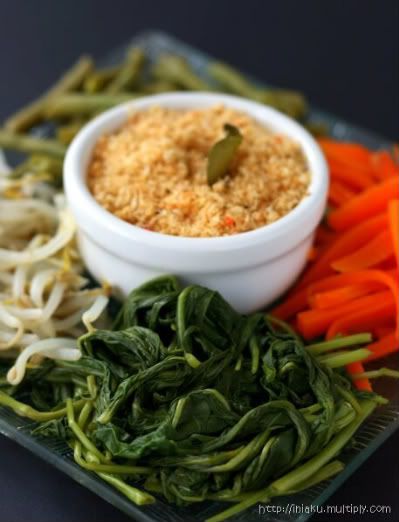 Method:


1. Heat oil in a wok pan. Sauté ground spices until fragrant. Add desiccated coconut, cook by stirring continuously until set.
2. Add lime leaves, cook over small heat for about 10 minutes.
3. Pour into tamarind juice. Mix well and remove from the heat.
4. Fold in steamed vegetables and mix well. Urap is ready to serve with/without steamed rice.