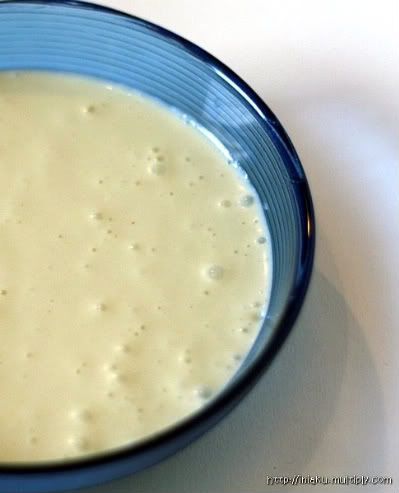 My new dear friend
Lore
who just finished
her great round-up of Original Recipes
, asked me
here
to write the recipe of my homemade garlic sauce as she is a big fan of garlic. As I promised her that I will post the recipe after July 15th (after my delayed project presentation... thanks God that finally I'm through with it), so here I am jotting down the recipe for her and for all my fellow foodie blogger who claimed themselves as
"garlic lover"
.
I knew about this sauce from my better half when he cooked Arabian food for us. I directly fall in love with this sauce, it really taste heaven and ..... garlic *LOL*

Since my beloved found out that I like this sauce, he took advantage ever since by ordering me to make it myself, but I don't mind. I love to make this homemade garlic sauce. Though my better half is allergic to garlic, but he never given up in eating this sauce.

The recipe below is from his beloved mother.



Ingredients:


1 big size potato, peeled and cleaned
8 cloves of garlic
5 tbsp mayonnaise
150 gr milk yogurt (3.5% fat)
Salt as needed



Methods:


1. Boil potato until soft. Blend with a blender or food processor.
2. Add garlic and blend again.
3. Add mayonnaise and blend.
4. Add yogurt and blend again. Season with salt and blend until smooth and well mixed.
5. Ready to eat as sauce for French fries, Arabian foods, every kind of grilled and BBQ foods, burgers, sandwich etc.
6. Store in a tight container (bottle or box like Tupperware) and keep it in refrigerator after using.

Happy making your own garlic sauce Lore! Thanks for waiting (un)patiently *LOL*
I hope you'll like it as much as I do.