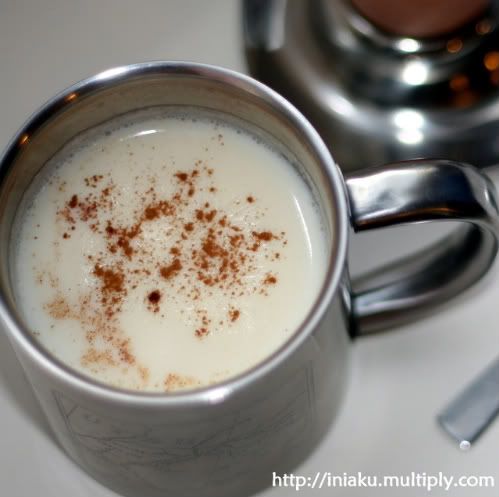 I made this beverage last winter to participate a
Blog-Event XXX: Ingwer
by
Zorra, 1X umrühren bitte
.
This drink will make you warm during the cold night at the winter. It's simply my favorite winter beverages. Love it!
Recipe Source:
-
Detik Food
-
Wedang Susu Jahe Spesial
,
To Love and Be Loved

Ingredients:
3 cup fresh milk
90 gr fresh ginger, peeled, roasted, bruised
1 cinnamon stick
4 cloves
3 cardamoms, bruised to let the seeds out (but don't throw them)
5 tbsp granulated sugar
15 gr palm sugar

Garnish:
Cinnamon powder

Methods:
1. Mix all the ingredients in a medium pan. Let it boil over moderate heat. Decrease the heat and let it simmer for around 10 minutes (if you want to have strong taste of ginger, keep it simmering for longer period). Remove from the heat.
2. Sift and pour into a cup. Garnish with cinnamon powder.

The round-up of this event can be found in this link.