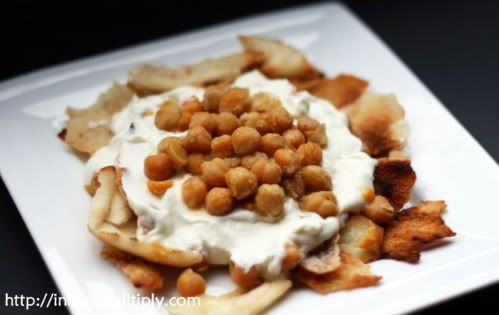 This recipe below I got it from my hubby, but only I used my own spices for the chickpea since he said I can put my own. My hubby used to make this appetizer using yogurt for the sauce, but I don't really like yogurt.. so I substituted it with quark and combined it with garlic sauce. I really like it, and I dare you to try it!
Cinta
, thanks for introducing and teaching me how to cook your foods. Love you!
Ingredients:




Fateh

(Fried Bread):
1 piece of pita bread, bite sized cut
2 tbsp cooking oil



Hummus

(Chickpea):
1 cup hummus (chickpea), soak overnight in water
1 knucklebone cinnamon stick
3 cardamom, bruised
Salt and pepper as needed
Warm water as needed



Labneh

(Quark Sauce):
200 gram Magerquark (low fat cottage cheese/curd cheese)
4 tbsp garlic sauce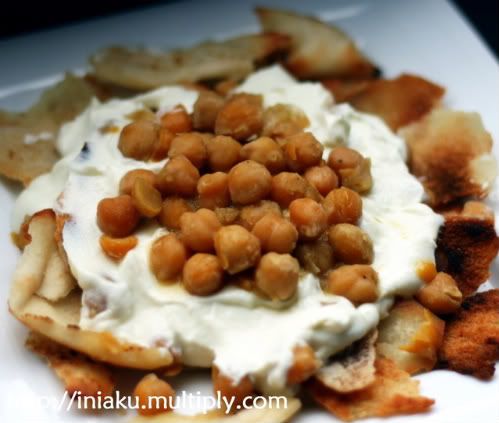 Methods:

Fateh

(Fried Bread):
Heat oil in a skillet. Stir fry pita bread until crispy. Set aside.



Hummus

(Chickpea):
1. Cook hummus until soft with the pressure cooker.
2. Add warm water, cinnamon stick, cardamom, salt and pepper. Mix well.
3. Cook over the small heat until the spices blended with hummus. Remove from the heat.



Labneh

(Quark Sauce):


Combine quark and garlic sauce in a bowl. Mix well.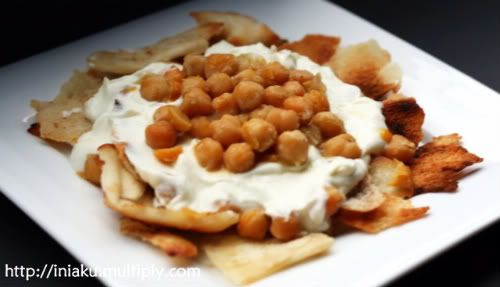 Serving Suggestions:
Place bite sized bread on the serving dish. Put hummus on top and covered with sauce.

This was my entry for Monthly Foodie Multipliers #11: Beans and Nuts hosted by Sulis - To Love and Be Loved. Found the roundup of MFM #11, here.