After joining and having so much fun in the first round-up, I decided to join again for the second one.
Maria and Rosie
from
Sweet & Simple Bakes
gave us a recipe to try. It's
Banana Chocolate Chip Muffins!
Both my better half and I love this muffin very much. Yay!
The same as my first attempt, I baked only half recipe. The reason was because I have only mini oven (the big one hasn't fixed yet until now) and I am too lazy to make it in two batches. I modified the recipe by using chocolate flakes instead of chocolate chips since I didn't have any. Since my beloved wanted to have a strong banana flavor in the muffin, I used only two table spoons of chocolate flakes and some for sprinkling on top.



Photographing these muffins were hard, since my hubby couldn't wait patiently. He kept on asking when he can eat it. But don't worry, he is happy now and already ate half of them ;)



Recipe Source:

Banana Chocolate Chip Muffins - Sweet & Simple Bakes Recipes

This is a half recipe, to see the original, simply click the link above.





Ingredients:


1½ very ripe bananas, mashed
62,5 ml sunflower oil
1 egg (size L)
125 gr all-purpose-flour
40 gr caster sugar
¼ tsp baking soda
½ tsp baking powder
2 tbsp dark chocolate flakes (and some more for sprinkling)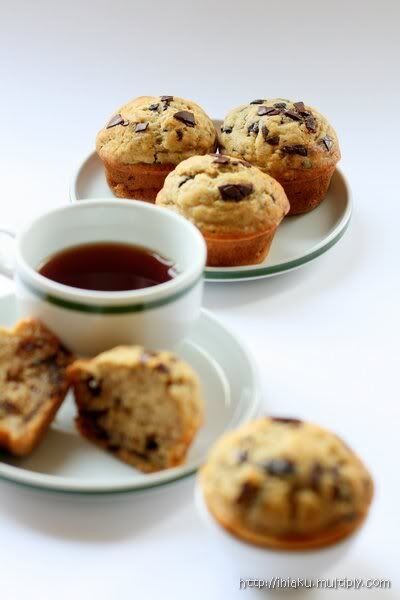 Method:


1. Preheat the oven to 180ºC oven and greased a 6-bun muffin tin or line with paper cups.
2. Pour oil into a small bowl and beat in egg. Set aside.
3. Combine flour, baking soda and baking powder in a large bowl and pour in the egg mixture. Mix used a spatula or wooden spoon. Fold in mashed banana and mix well.
4. Fold in the chocolate flakes and pour the batter into the muffin pans. Bake for 20 minutes or until toothpick inserted comes out clean.

Rosie and Maria, sorry for posting it late. It is still 1st August though in Germany *winks*