Konsep
or Concept has been chosen by
Dita
, the organizer of
Home Food Photography
event, as the theme of
its fourth edition
.
Concept! What a word! Truly speaking, I've never shot my food with a concept. Usually, right after the food is ready to be photographed, I got the idea how to visualize it. But it is more to the styling thingy not the concept as I don't have much props. My fav photographer (he is my friend and teacher as well, though he will deny the last one) told me that property for a photographer is a must! Well, at this moment, I can afford that, not only because I have to be wise with my money (as a student), but also I don't have enough space to keep them. Just let me recycling what I have now. Hope you will not get bored seeing the same prop in different post here.
After making couscous (that supposed to be my entry for MKMW - Morocco), the idea of the old days flash through my mind. Imagining walking through the old town, and eating native foods from the street vendor somewhere in Morocco, has made me came up with this idea. Luckily, my better half just brought me some antique serving dishes from Jeddah (ya I know, Jeddah is not in Morocco, but the people in both Saudi and Morocco speak Arabic, no?).

To represent the old days, I used black background and light brown table cloth to accompany the antique dishes. That day, the sun shone brightly, that in normal situation I would be very happy since it's perfect for indoor photo shooting, but I wasn't. I needed it to be dark, to give the feeling of an old time. To manipulate the sunlight, I decreased the exposure value (EV) to one stop.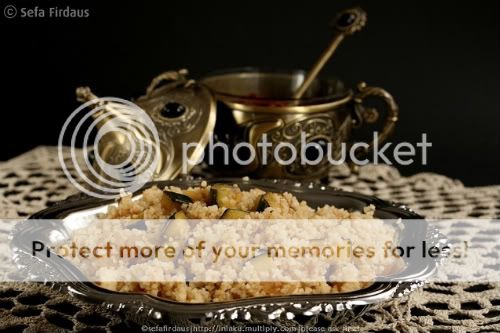 Though the result were not perfect, but I hope you can feel the ambiance of the old days.

Feedback are most welcome. Thanks!




Last but not least...
Happy B'day Dita oooppss I mean Pinot!
Wish you all the best and many happy returns.