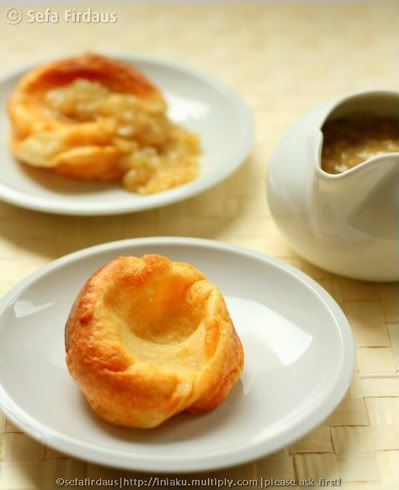 Actually I put my eye on this pudding since
MKMW
announced
England
as the theme, but then I couldn't make it since my laptop was broken and I was sick. But still I can't stop thinking about making this pudding, since it sounds so different from pudding that I knew.
After struggling with my laziness, I made this pudding couple hours before iftar and directly photographed it before I lose the sunlight. After seeing the result (photo), I thought it suits to be submitted for
Click September 2008: Crusts
, hosted by
Bee
and
Jai
from
Jugalbandi
.

Yokshire pudding is a dish that originated in Yorkshire but attained wider popularity. It is made from batter and most often served with roast beef, chicken, or any meal in which there is gravy served with it, or on its own (Wikipedia).

Frankly speaking, it was my first time eating this pudding. I ate it for iftar and sahur and it was delicious. My friend (who stays in our home) liked it. I can tell you by the look of her eyes while eating it. We ate it with onion gravy. Yummy yummy yummy.

This side dish is worth to try and the most important, it is easy to make. Believe me, failing is not the suitable word in making this pudding, though the first time. If I can do it, why can't you?

The recipe below is a family recipe of my friend Lina who got it from her
British
mother in-law.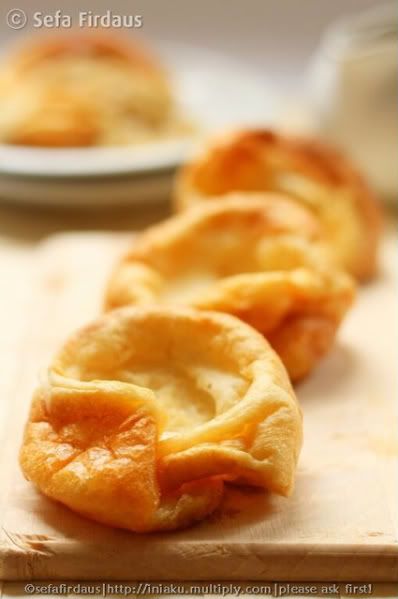 Yokshire Pudding
Original recipe by

Mrs Gladman

through her daughter in-law Lina Gladman



Ingredients:


1 cup fresh milk
1 cup all-purpose-flour, sieve
2 eggs
1/2 tsp salt
Vegetable oil





Method:


1. Preheat oven to 200°C.
2. Combine eggs and milk in a mixing bowl. Mix until incorporated using whisker.
3. Gradually add flour and salt. Continue whisking to create a lump free batter resembling thick cream, if there are any lumps pass the batter through a fine sieve.
4. Prepare 6-hole muffin tin. Pour half tablespoon of vegetable oil in each hole. Place the muffin tin into oven and let the oil become really hot (produce smoke). Take it out.
5. Pour batter into each hole. Fill a half to each and return quickly to the oven. Leave to cook until golden brown for around 25-30 minutes. Remove immediately from the oven and serve with the onion gravy (recipe will be posted a.s.a.p).



Note:


- You can blend all the ingredients in a blender or food processor.
- Store Yokshire pudding in an airtight container. Warm it on the microwave and can be served with jam, golden syrup, honey or sugar.
- It's known as Popover in USA.