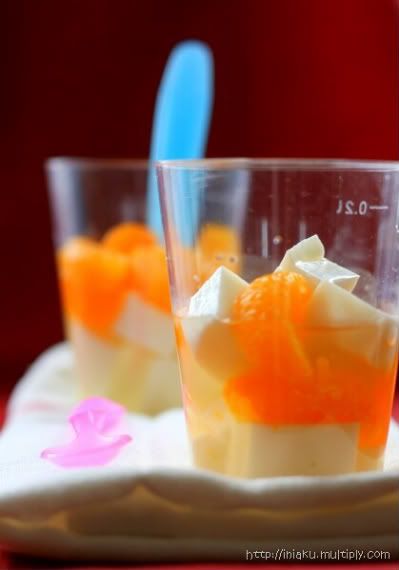 Though it's called Tofu Pudding, but there is no tofu at all in the ingredient. It's named as tofu pudding because it looks like tofu. The first time I saw this pudding was on Mbak Esther's multiply (sorry, I don't remember the link). She made it with almond flavor, but mine is only milk and agar-agar powder.
This pudding is become my fav, not only because it's easy to make but also healthy. The main ingredient of this pudding is milk!
I've made this pudding two times, the first I mixed it with peach and tropical fruit cocktail and brought it to the monthly gathering last two weeks (everybody liked it). The second time was one day after the gathering but this time I used mandarin orange and I like this one better. You can use any kind of fruit that you like.



After taking the photos of my second tofu pudding, I remembered the event called Got Milk? I saw the first time in Yummy!! Then after I read it from Make Life Sweeter (the owner of this blog, Linda, is the host) I decided to participate.



I haven't got my own kid now, but my mom breastfed her children (nine of them - ya ya.. I come from a big family) and so did my sisters. My two best friends in Jakarta also breastfed their babies. I found the moment of breastfeeding is full of love between mom and the baby. That's why I really hope that I can do the same when God gives me a chance to be a mother.

To know more about breastfeeding, please visit this site: www.breastfeeding.com.



Kudos to all mother in the world who breastfeed their babies!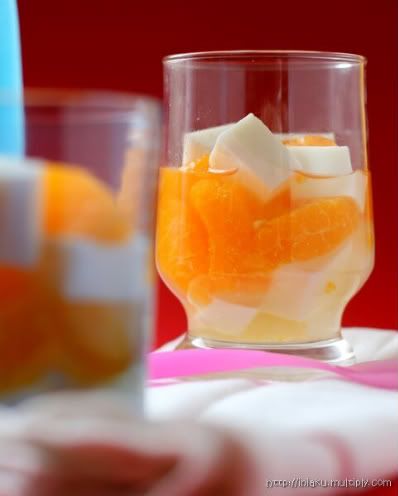 Puding Tahu

(Tofu Pudding)
Recipe by

Mbak

Estherlita, modified by me.



Ingredients:


Tofu Pudding
750 ml fresh milk
1 package of agar-agar powder (ca. 7 gr)
40 gr granulated sugar

1 can of mandarin orange (340 gr)



Syrup:


200 ml hot water
2 tbsp granulated sugar
Lemon juice as desired



or you can use the syrup of mandarin orange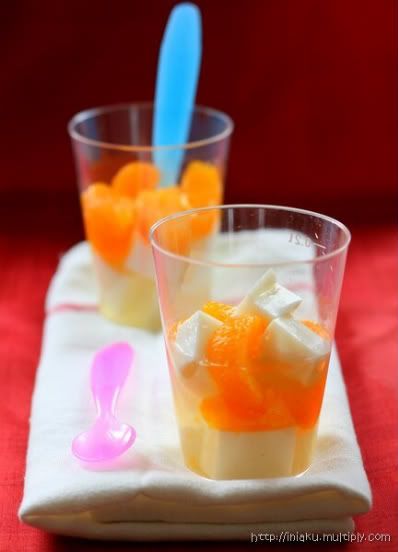 Method:


1. Combine agar-agar, sugar and milk in a sauce pan. Bring to a boil by stirring continuously. Remove from the heat.
2. Pour the milk mixture into a pudding mold (wet the mold with water before using). Let it stand until cold, cube and mix with mandarin orange and syrup. Store in refrigerator before serving.



Syrup:


Dissolve sugar with water. Add lemon juice. Mix well.