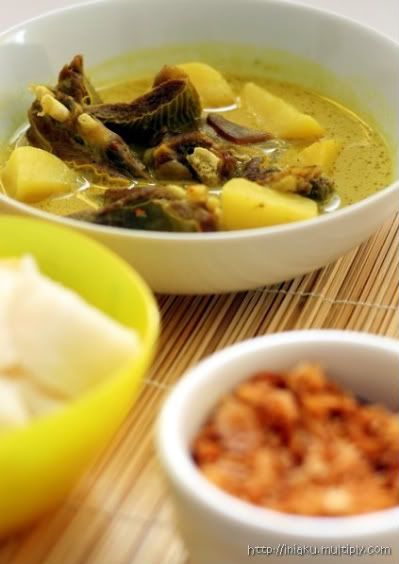 This one is all time fav of my better half. He will ask for it whenever I told him that I'm going to buy lamb meat :) He also promoted it to my mom and promised her that I will cook it for her. He is good, isn't he!
As a good wife, I kept his promise to my mom by cooking this food. Again I have to reduce the amount of chili using in this recipe, because I did not want my family suffer from diarrhea. See, I'm not only a good wife, but a good daughter, sister and auntie as well (even I added potatoes as they wanted to have this curry with potato) .

For you my dear friend, I write you the one with lots of chilies. I know you will survive :)



By the way, actually

kambing

is goat in English, while lamb is

domba

in Bahasa Indonesia. But since in Germany is easier to find lamb than goat, and

kare kambing

sounds better than

kare domba

, I stick with kare kambing while translate it into lamb curry. Name is not the issue here, but the taste is. My mom likes it and so does my sister and niece. Houaiissssssssssss!



Ingredients:
1 kg lamb meat (I used lamb rib), cut as desired
5 medium potatoes, peeled, cubed (optional)
300 ml thick coconut milk
1 l light coconut milk (250 ml thick coconut milk + 750 ml water)
4 cardamoms
5 cloves
1 lemongrass, bruised
2 lime kaffir leaves
3 dried Indoensian bay leaves
1 cinnamon stick
1 star anise
2 dried

asam kandis

(Garcinia xanthochymus) - substitution: tamarind paste
Cooking oil for stir frying



Spices, grind:


1 tsp nutmeg powder
4 cloves of garlic
8 red onions
1 knucklebone ginger (ca. 2 cm)
1½ tsp turmeric powder
3 candlenuts, toast in oven/microwave
7 red chilies (can be reduced)
2½ tsp galangal powder
1 tsp cumin powder
½ tsp white pepper powder
Salt and sugar as needed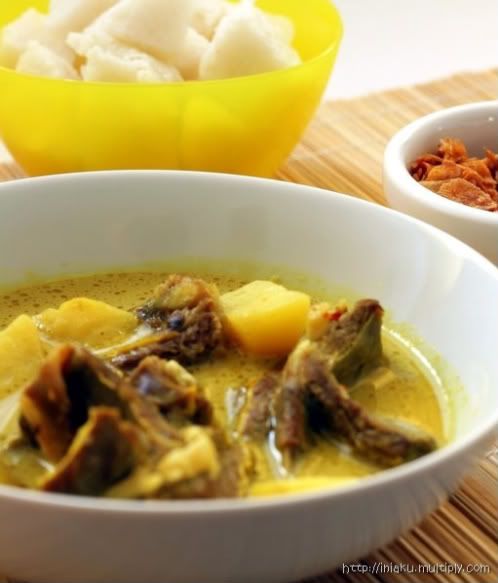 Methods:


1. Heat oil in a wok pan. Sauté ground spices until cooked and fragrant. Pour into light coconut milk, let it boil.
2. Fold in lamb meat and other ingredients (except thick coconut milk). Cook over moderate heat until the gravy reduce to half.
3. Add thick coconut milk and stir occasionally until the meat become soft. Remove from the heat.
4. Serve while hot with rice cake/steamed rice/roti jala (net bread) and garnish with fried red onion. Lecker!