Summer is BBQ and grill time! But unfortunately, not this year since we experienced a rain season instead of summer season here in Bremen. We have rain almost everyday and we still wear our jacket or pullover. Could it be possible due to global warming? Let our scientists answer it!
Actually this one is a repost from my
accidentally-deleted-blog
, but I believe it is still worth to share. Normally Kambing Guling must be cook over an open fire, but in such a weather, I couldn't do it outdoor. But to make it indoor might be a problem too, since the smoke for sure will go out of the apartment and bother my neighbors. I don't want one of them will address a complain to the landlord. So I baked it in the oven. This method were cleaner and easier and the most important is "avoiding me from getting a love letter from the landlord" ;-)
Kambing Guling

can be found in almost every wedding party in Jakarta (I don't want to say Indonesia, since up to now I had never attended wedding party all over Indonesia). This kind of meal is everybody's favorite, the booth of

Kambing Guling

always had a long line of people queuing. The stall was always be the first one that run out of food. It's understandable since the taste of Kambing Guling is heavenly yummy (at least for goat/lamb lovers).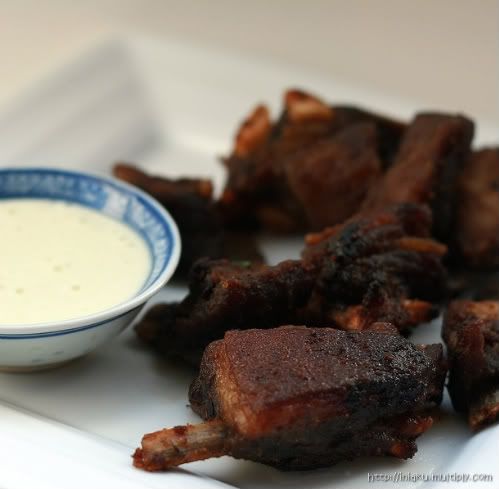 As I used lamb ribs, I cooked it first over small heat (slow cooker) with the marinade sauce. As I didn't have any of Worcestershire sauce or know as

Kecap Inggris

(English sauce) in Indonesia, I modified the ingredients by adding cooking vinegar and salty soy sauce. The result was just perfect, it tasted really

Kambing Guling

that I knew *lol* To give an Arabian taste in this meal, I served it with Garlic Sauce. My better half love it very much, yay!



Recipe Source:

Kambing Guling - Cladia Lum



Ingredients:


500 gr lamb ribs, cut into small sized (as desired)



Marinade sauce:


2 tbsp coriander powder
2 tbsp garlic powder
1 tsp nutmeg powder
2 tsp white pepper powder
1 tbsp salt
2 tbsp Indonesian sweet soy sauce
½ palm sugar, dissolved in 4 tbsp warm water
2 tbsp cooking oil
1 tbsp cooking vinegar
1 tbsp salty soy sauce
6 tbsp warm water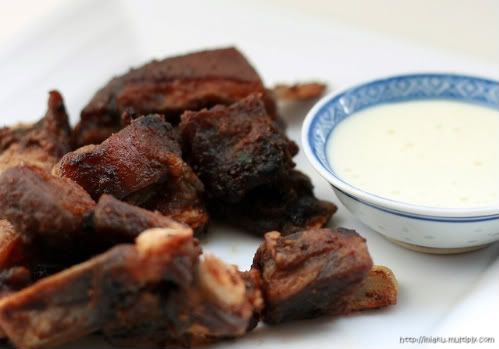 Directions:


1. Combine all together marinade sauce ingredients in a medium pan sauce. Add lamb rib, mix well. Cook over small heat until the meat two third cooked. Remove from the heat.
2. Plate lamb rib in a baking dish. Oven with 250°C for 15 minutes or until the meat done.
3. Serve with steamed rice and garlic sauce. Yummy!!