When I realized that today is already July 18, which means, I have only 2 days left to keep my promise to
Dita of Yummy!! My Culina Sanctuarium
to join her great and fun event, Home Food Photography with
Studio
as the theme. Actually, I have only today to do it, since during the weekend I will attend PRIMA (a sport tournament between the Indonesian Moslems all over Germany).
I took this photo of my

asal goblek studio
today
(sorry, I don't know the English translation of

asal goblek

) as I finished making "urap" (steamed vegetables mixed with spicy coconut flakes).

I really don't have a fancy studio and I seldom use a reflector nor a tripod.
Normally, I just used my monitor box as a table and put it under the window.
But today I had to put extra boxes for my studio as it was cloudy outside and I used my tripod since lately I got problem with my right hand.


4 boxes and 1 clock
Gauloise box I got from my best friend (
a former Jurangan Roti
-
now starting her career as Juragan Es Krim) when she sent chocolates for my niece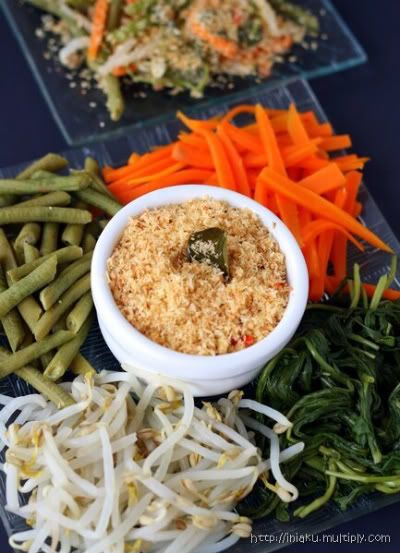 urap - my better half said "tasty sekali dong"



This photo below was taken by my friend. She took it candid while I was busy taking picture of mun tahu. This is the studio that I always use to take picture of my foods. It is indeed asal goblek right!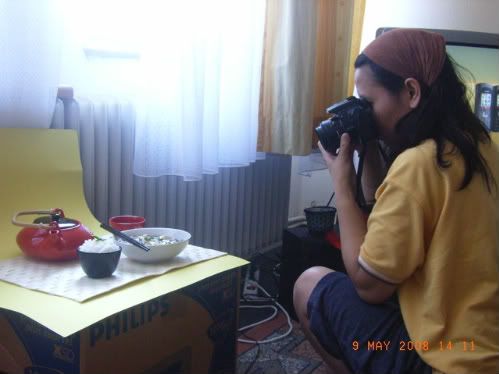 still wearing my kitchen uniform :D


one of my contact in Multiply said that I did pilates while taking picture :)




Ooopppsss... almost forgot to tell, my studio is located in my living room. Please, just ignore the mess... both me and my beloved just finished our exam and still are lazy to clean the house *shy*

Dita, can't wait to see the round-up. ;)
Wish you all a lovely weekend!