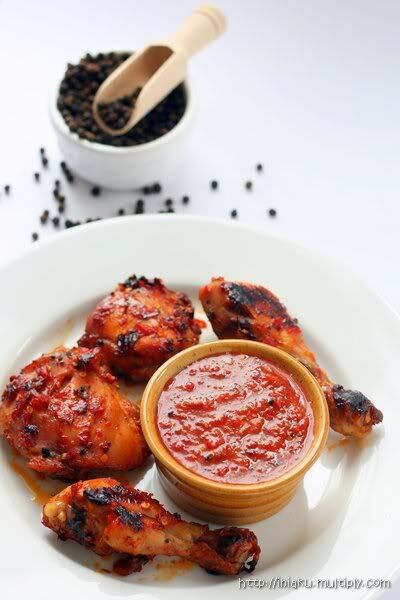 I created this recipe on
September 2004
when I was invited by
Polish
students for potluck BBQ. I knew about it couple hours before the t-time, so I decided to make something simple. But then when I was ready with my potluck, my friend told me that they rescheduled the BBQ until the following week. Since I already imagined to eat chicken BBQ, I baked the chicken in the oven. Wow!!! It tasted really good. Ever since, it has become my master piece ;)
In my

Bahasa Indonesia

recipe blog, I named it as

Ayam Panggang Madu Lada Hitam Iniaku

(Iniaku is the id of my primary blog in Multiply). I did that because one of my friend stole the recipe and claimed it as his. Ow!! I'll never allowed someone to do that to my creation. You can use my recipe but not claim it as yours! Me myself, I always give credit to the person whose recipe I use since I know, creating recipe is not that easy. Why we have to hurt people who's kind to us and let us use their recipe?

As I wrote above, this one is my master piece. Why? Lots of friends have tried it and liked it. Once I served it for around 20 persons in a gathering. Most of them gave a plus point, some even asked to bring it home. But above of all is

my mom liked it very much

. I knew it because she asked me the recipe and told me to buy her the sambel oelek, so she can make it at home (Jakarta, Indonesia). FYI, sambel oelek is not available in Indonesia, it's only sold abroad.



Sorry if I sound too snobby or arrogant. I just hate when someone stole someone idea and declare it as his. I do love to share my recipe and I am happy when they like it. That's why, I include this recipe to a great event hosted by my dear friend Lore. Yup! Original Recipes now become a monthly event. It's cool, isn't it. She let's us explore our creativity in culinary world. Thanks Lore!

But please, do not be afraid to use this recipe and my other recipes too. I made this blog to share and to learn from others. I hope, you will have the same idea about this meal and agree with me about it's my master piece *smile*

Have a nice day mates!



Ingredients:


1 kg chicken thighs



Marinade Spices:*


2 tbsp sambel oelek**
2 tbsp oyster sauce
1 tbsp honey
Black peppercorns as desired, ground
4 cloves of garlic, ground
Lime juice as desired





Chili Sauce:


The rest of marinade spices
1 tsp cooking oil



Method:


1. Cut chicken thighs into half. Remove the skin and clean. Make some slits on the meat to absorb the spices.
2. Mix all spices into a tight container. Add chicken and mix well. Close the container and let it stand in refrigerator for at least 1 hour (the longer the better - normally I keep it overnight).
3. Preheat oven to 180°C. Place chicken in a baking tray. Bake for 1 hour or until cooked.
4. Serve with chili sauce and steamed rice/pita bread. Yummy!!





Chili Sauce:


Heat oil in a sauce pan. Cook and stir continuously the rest of marinade sauce over moderate heat until set.



Note:


* You can use your own measurement (ratio of sambel oelek - oyster sauce - honey is 2:2:1).
**Sambel oelek can be made by grinding fresh red chilies then add cooking vinegar and salt.