Finally after a long delay (almost
one month
), I made sapo tahu. I started to cook at 10 o'clock in the morning and captured it one hour later. Today photo session was tough, I lost my soul in food photography. The sun shines brightly (too strong) and my mood was bad. Exhausted after two days working and little bit discontented after hearing that my sister has to reduce some of my belonging from the luggage to avoid the excess baggage. Yup, my mom, sister and niece will come to visit us. Inshaallah, they will reach Germany tomorrow at 14:00. Houaisssssss!!
Psssttt you know what, my best friend
Nana
, was laughing out loud when I told her that I'm not satisfied with the photos. And as always, she can comfort me with her laugh. Thanks a lot dear, love you.

Sapo tofu is a Chinese food cooked and served in a claypot. They said that the secret of this food is the claypot that keep it warm and enhance the taste. You can read more about claypot in Wikipedia.




Mbak*

Rieke

, the sexy chef, for me is a reliable source in culinary field. Her recipes never failed, always turned out good. She is also the one who encourage me to make my own martabak pastry. For me, she is one of my idol among the Indonesian foodiebloggers.

I did small modification by substituting hioko mushroom with button mushroom since I couldn't find them in Asia shop and using dried green onion instead of fresh one. I also reduced some amount of the ingredients.

Gottseidank

, my hubsie said that he likes it and it tastes very good.

Mbak Rieke, thanks a lot!



Recipe Source:

Sapo Tahu, Sexy Chef.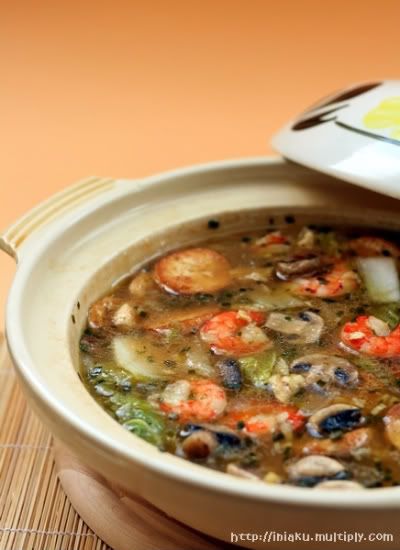 Ingredients:
2 cylindrical packs of egg tofu, cut, fried
26 black tiger shrimps, peeled, deveined, cleaned
8 leaves of Chinese cabbage, cut 4 cm, soaked in a hot water until wilted
10 small size button mushrom, cut, cleaned



Spices:


4 cloves of garlic, finely minced
½ medium size onion, sliced
1 knucklebone ginger, finely minced
1 tbsp dried green onion
5 tbsp oyster sauce
1 tbsp fish sauce
400 ml beef broth (400 ml water + ½ block beef stock)
1½ tbsp sesame oil
1½ cornstarch, dissolved in 3 tbsp water
3 tbsp cooking oil



Methods:
1. Heat oil in a sauce pan (or you can use skillet or wok). Sauté garlic, onion, ginger and green onion until fragrant.
2. Add beef broth. Season with oyster sauce, fish sauce and sesame oil. Mix well and cook until boil. Remove from the heat.
3. Place fried tofu, shrimps, Chinese cabbages in the claypot. Ladle the broth into the claypot. Cook over moderate heat until set.
4. Add cornstarch mixture. Mix and cook until thicken. Turn of the heat.



Note:




Mbak*

is a Javanese (Central + East Java) word for Sister. Used to call a woman older than us, but nowadays it used to show some respect.