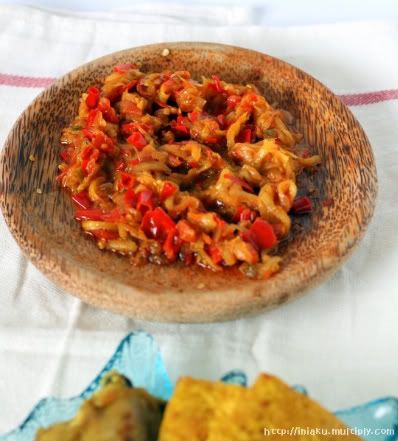 For most of the Indonesian, eating without
sambel
(chili paste) is not complete. Even for the Javanese who likes to eat sweet, they still need chili in their food. From West to East, from Banda Aceh to Papua, every Provence has their own special chili paste. My hubsie said that nobody eats chili paste like the Indonesian, and that's true (cmiiw). Yet he's been mutating into Indonesian since he must eat with chili paste. If you see in my fridge, you'll find both homemade and ready to use chili paste.
After drooling when seeing sambel belimbing wuluh made by Rita, I decided to make my own. Too bad that she didn't post the recipe, but her kindheartedness has made her writing me the recipe through personal message in Multiply. She advised me to use mango (the sour one) as substitution for

belimbing wuluh

or also known as belimbing sayur.



I used my own measurement, but if you want to use the original one, please visit Mbak Esther site, since Rita got the recipe from her.

This is my entry for Blog Event IIIIV - Some Like It Hot hosted by Zorra of 1x umrühren bitte (Kochtopf). Danke Zorra!


Recipe Source:


- Sambel Belimbing Wuluh, Edisi September 2007.
- Sambal Belimbing Wuluh, BlogNya Rita.

Ingredients:


20 red chilies
15 bird eye chilies
6 small red onions
2 cherry tomatoes, diced
½ block terasi (shrimp paste) - you can use ready to use beef/chicken broth powder/block
Salt and sugar as needed
½ Mango, peeled, shredded
3 tbsp cooking oil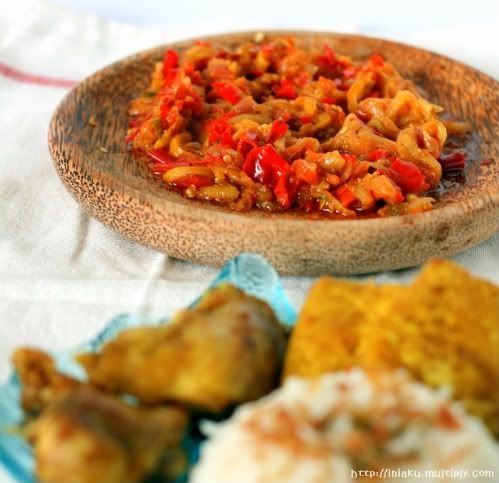 Methods:
1. Roughly grind red chilies, bird eye chilies and red onion with Indonesian mortar and pestle. (You can use chopper or food processor).
2. Heat oil in a skillet. Sauté chilies and red onion until fragrant.
3. Add tomatoes, shrimp paste, sugar and salt. Stir fry until tomatoes become wilted and the oil became clear.
4. Add mango. Stir fry for a while. Remove from the heat.
5. Ready to serve with

nasi uduk

, yellow fried chicken and yellow fried tofu.