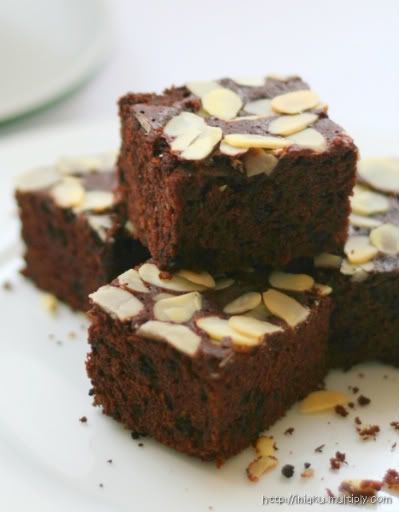 When I won a writing competition (
MP Friendship Writing Event
) in multiply held by
Ezra's mother
, she gave me a recipe book. Actually the price was a voucher from a famous book store in Indonesia. As I told her that I will use the voucher to buy a recipe I found in that book store website, she told me that she will buy it for me, so that I still can use the voucher to buy something else. Yay!!!!
Then when my family came, they brought the books.
She
sent two copies of it, since I told her that I will give the other one for my best friend
Nana
. Yup! It was her I was talking about in my writing, so she deserves the price as well.
Why I want this recipe book so badly? Because it is about renovation in recipe, turning yummy dishes into yummy and healthy foods. Interesting right!

Today I started to use the book for spoiling my mom. She wanted to have something sweet for dessert. When I told her to choose from the book, she chose this brownies.



I have a confession to make. I misinterpreted the recipe by using powder sugar instead of superfine granulated sugar. That's why, I add water when melting the sugar. Thanks God the result was good. Mom likes it very much!

This recipe has reduced the amount of fat, saturated fat as shown below:





Original Recipe

Renovated Recipe

Energy (cal)
Fat (gr)
Cholesterol (gr)
Saturated Fat (gr)
Fiber (gr)
248.1
14.3
112.2
8.1
0.2
112.3
3.2
22
0.8
0.2



Recipe Source:

Masakan Selera Internasional - Rendah Kolesterol, Rendah Lemak dan Lezat! (Hiang Marahimin - PT Gramedia Pustaka Utama)

Ingredients:
110 gr all-purpose-flour
½ tsp baking powder
50 gr margarine (50% fat)
30 gr dark cooking chocolate, roughly chopped
50 gr unsweetened cocoa powder
180 gr powder sugar*
3 white eggs, slightly beaten
1 egg, slightly beaten
Sliced almond as desired
Water as needed**





Methods:


1. Preheat oven to 160°C. Line the baking pan with baking paper and grease with margarine.
2. Sift flour and baking powder in a bowl. Set aside.
3. Melt margarine and dark cooking chocolate in a double boiler over moderate heat. Add cacao powder, mix until melting. Add powder sugar, add water until dissolved. Remove from the heat.
4. Mix eggs in a big bowl. Pour into chocolate mixture, whisk until well blended. Add flour mixture, mix well.
5. Pour the batter into baking pan and top with sliced almond. Baked for 40 minutes until set or until a toothpick inserted comes out clean. Remove from oven. Let it cool for 10 minutes and cool completely on a wire rack.



This recipe is also my entry for an event called Tried, Tested and True Two hosted by

Psychgrad

and

Gizmar

(Psychgrad's mother) of Equal Opportunity Kitchen.



Note:


* the real renovated recipe using:

superfine sugar


** not needed when using superfine sugar