I baked this cake 2 days ago and I didn't plan to take picture and post it here. But since my niece disturbed my beloved who was studying, I decided to photograph the rest of this coconut cake.
Klappertaart is originally from
Manado
,
North Sulawesi
,
Indonesia
. There is another version of it, which made from custard and flour then top with meringue. The one here was made from mixture of soft bread (sandwich bread) and flour. I've tried the both, and in my book both are delectable.
| | |
| --- | --- |
| | |
The recipe below I got from the late Bunda Inong, who was a great baker and cooker, who shared her knowledge in culinary for every one who needs it. May you rest in peace Bunda, thanks for everything.

I did slightly modification by adding cinnamon powder and substituted coconut milk with fresh milk. The result was not bad at all. My mom liked it very much, even she demanded me to make it again before her departure. Yup! She wants to bring it home.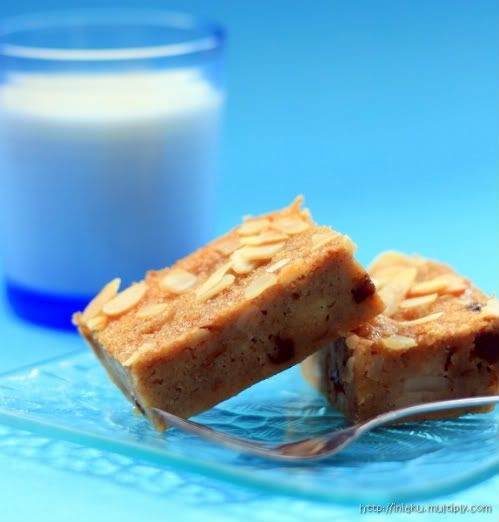 Recipe Source: Klappertaart Praktis a la Bunda Inong, Dapur Bunda Zidan&Syifa.



Ingredients:


5 pieces of sandwich bread, cut into bite-size
250 ml fresh milk
440 gr (1 can) of young coconut meat, drained, washed with cold water, cut julienne
50 gr all-purpose-flour
125 gr granulated sugar
4 eggs, slightly beaten
½ tsp vanilla sugar
½ tsp salt
1 tsp cinnamon powder
Raisin as desired



Topping:


Sliced almond as desired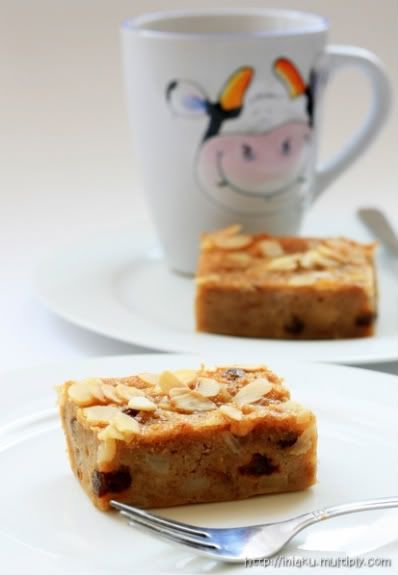 Methods:
1. Place breads in a medium bowl. Add fresh milk. Mix until soft using whisker.
2. Add another ingredient. Mix well.
3. Place the batter into a greased baking pan (28,5 x 19 x 4 cm). Top with sliced almond. Bake in a preheated oven of 180°C until set (about 35-45 minutes).
4. Cool in a wire rack. Remove from pan and slice as desired.

And what happened to my niece? She stopped disturbing her uncle by distracting her auntie. She popped up in my view finder or near the cake. Then I let her to be a pro food photographer of the day *LOL*



See her action and her photos of klappertaart in this album: Like Auntie Like Niece