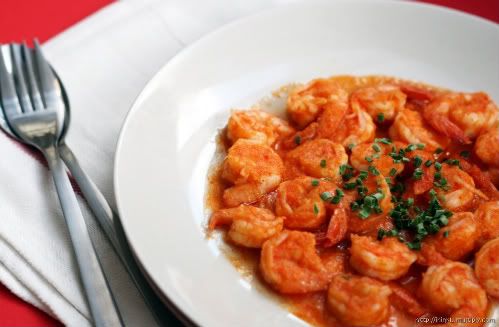 I cooked this meal with love. A love for my betterhalf who is sick and craving for this food. He kept on mumbling how it would be nice having this dish for lunch tomorrow. So today, I kicked the laziness inside away and cooked.
Gottseidank
, today... I could see how happy he was eating my food. Now, he is sleeping peacefully after taking medicine and I rubbed his back with
minyak kayu putih
. Love you
cinta
, get well soon.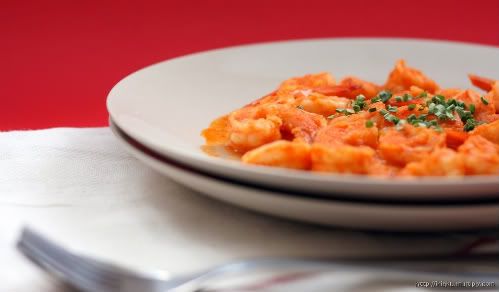 I use the recipe of my friend Rima from Dekap[dot]com, but I used my own measurement. If you can't stand hot food, please reduce the amount of red chili.



Recipe source:

Udang Saus Padang, Dekap[dot]com.


Ingredients:
50 medium shrimps, peeled, tail-on, deveined and cleaned
4 tbsp water
Vegetable oil for sautéing

Spices, blend:
15 red chilies
6 shallots (small red onion)
4 cloves of garlic
1/2 tsp

terasi

(shrimp paste)
Granulated sugar as needed
1 tsp salt
1 thumb of ginger


Directions:
1. Heat oil in a skillet. Sauté blended spices until fragrant and the water evaporated.
2. Add shrimps. Stir fry until red (the color changed).
3. Add water. Cook by stirring occasionally. Adjust the taste by adding salt and sugar when needed. Simmering over small heat until cooked and the gravy thickened. Remove from the heat.
4. Serve hot with steamed rice.