This is a pudding originally from
West Sumatra
named
Sarikayo
. It was my favorite dessert back in
Indonesia
. Mom used to make it on
Eid-ul Fitr
or
Eid-ul Adha
, but sometimes she made it based on my request as her spoiled youngest daughter. All my brothers and sisters loved it too, because it tasted heaven :-)
I remembered once in 2005 (when I was on my summer holiday in Indonesia), our big family (my family is indeed big since I have 5 sisters and 3 brothers with lots of nephews and nieces) had lunch at the restaurant. When we read that they served this pudding as their dessert, we ordered all and made other customers had no chance to have it as their dessert :-D You know what, even for us it was not enough *lol*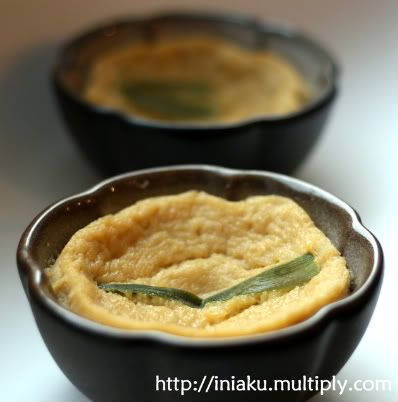 The recipe that I will share here belong to my beloved mom. That's why, you do not have to hesitate to give it a try as mom's recipes are always the best.

I skipped the use of

adas manis

since I did not have any idea what to use to substitute

adas manis

. I found on the net that

adas manis

called

fennel

in English, still I was not sure. But if you have it, better to use as your pudding will taste better.



Recipe Source:

My beloved

Ibu

(

Ibu

is Mother in Bahasa).



Ingredients:


1 cup palm sugar, grated
1 cup egg, slightly beaten
250 ml coconut milk (ready to use)
Salt to taste
4 tbsp water
Pandan leaves as needed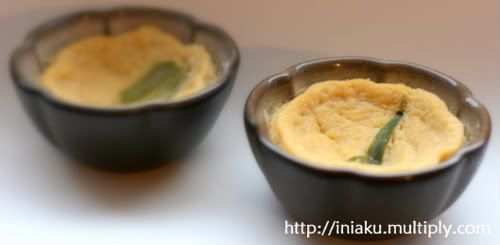 Methods:


1. Mix palm sugar and water in a sauce pan. Add pandan leaves. Cook until boil over moderate heat. Remove from the heat and sift.
2. Fold in beaten egg and coconut milk into sugar mixture. Season with salt. Mix well.
3. Pour the mixture into small ramekin. Top with one slice of pandan leaf. Do it until finish.
4. Steam until cooked for about 45 minutes. Do not forget to place a kitchen towel on the lid to avoid the water drop.
5. Refrigerate before serving.


It was my entry for SHF #38: The Proof is in The Pudding! hosted by Zorra, 1X Umrühren bitte.
Check the round-up, here.

SHF is shorten for:

Sugar High Friday

, one of the oldest and most revered food blogging event, created by Jennifer, the Domestic Goddess.