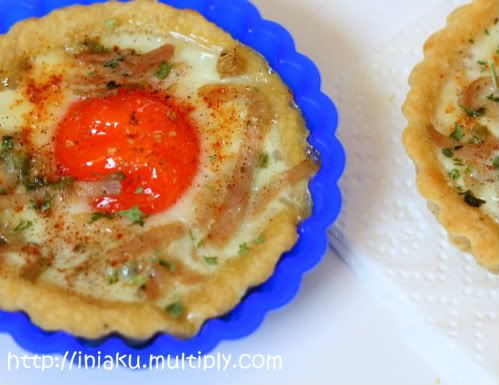 I made this pie by accident. Yup! It was not supposed to be pie, but since I substituted the use of fresh potato with potato puree (ready to use), the batter became thick instead of soft. At first I thought to throw the batter and made a new one, but suddenly I remembered that I have pie mold. So I added flour into the batter and formed it into pie shells.
After making the crusts, I let them stand in fridge for 2 weeks before I made the filling. (Ya ya... lazy is my middle name). Thanks God, it was still in winter when I baked the crusts, so they were still edible after 2 weeks. I'm still alive, no! *LOL*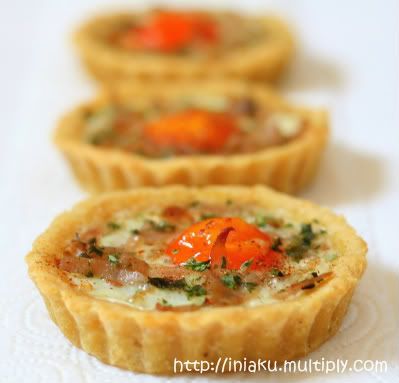 I labeled this recipe both as my recipe and modified culinary since it's totally different from the original recipe that I got from German culinary magazine (until now, I haven't found it).
This recipe was made without measurement, I just added the ingredients according to my feeling. But since I had to submit the recipe as well, I tried to memorize them. So, if by any chance you are interesting in trying this recipe, please adjust the measurement.

This was my entry for MFM #12 - Eggs, hosted by a beautiful mother of T&H, Mbak Yeni. I submitted it in the last minute (as usual). The round-up is available in this link.



Ingredients:


Pie Crust:
200 gr potato puree (kartoffelpuree)
175 gr all-purpose-flour (type 405 in Germany)
1 pack (200 gr) of whipped cream
200 ml fresh milk*
6 tbsp butter*
Nutmeg powder as needed
Salt as needed



Filling:
Eggs as needed (depends on how much pie shells)
6 slices of turkey salami, slit lengthwise
1 stalk of green onion, finely sliced
Red chili powder as needed**
Nutmeg powder as needed**
Coriander powder as needed**
Salt and white pepper powder as desired
Vegetable oil for sautéing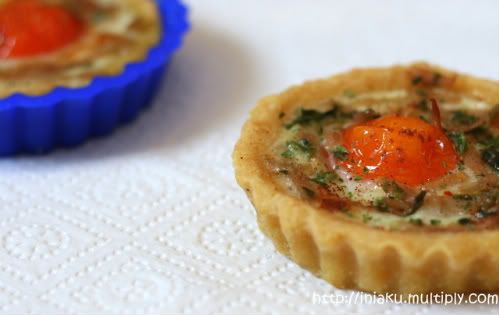 Garnish:
Dried parsley
Red chili powder

* Can be added as desired.
** Can be substituted with any spices as desired.



Methods:


Pie Crust:
1. In a big bowl, mix potato puree and flour. Add butter and whipped cream. Mix well using spatula or wooden spoon.
2. Add fresh milk until the batter can be formed and not sticky.
3. Season with salt and nutmeg powder. Mix well.
4. Take two table spoon of batter, roll into a ball and form into the silicon pie mold.
5. Bake in a preheated oven 180°C until set. Let it cool.

Filling:
Heat oil in a skillet. Sauté green onion and turkey salami until the color changed and fragrant. Season with salt, pepper, chili powder, ground coriander and nutmeg powder. Stir fry over moderate heat until the spices well blended. Remove from the heat and set aside.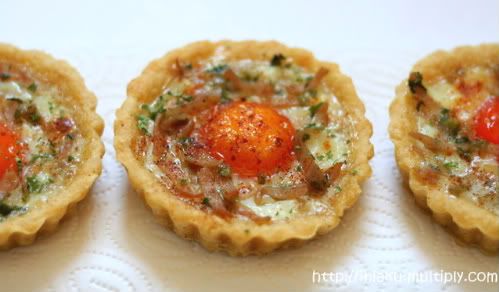 Finishing:
1. Place egg inside the pie crust. Garnish with the filling.
2. Bake in a preheated oven 180°C around 15 minutes (until the egg cooked). Remove from the oven.
3. Garnish with dried parsley and chili powder. Serve hot better.

Really I was glad that it turned out delicious. I ended up eating them all ;)

See more photos (of one them is my head banner) of this recipe in: Egg Nest Potato Pie (Repost)