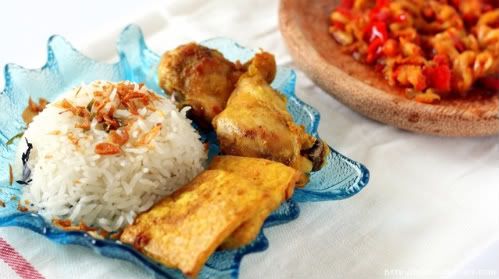 This is my way every time I cooked
Nasi Uduk
. A used a short cut method by cooking it with the rice cooker. But since couple times the rice wasn't cooked well, I stir fried first the rice until the color change into white (like the white of milk). It worked! Houissssssss!
Since

nasi uduk

is my hubby fav rice, last two days I cooked it to spoil him. He was happy and forgot his carbohydrate diet :) To see his smile, I forgot the pain in my right hand that used to grin the mango chili paste using Indonesian mortar.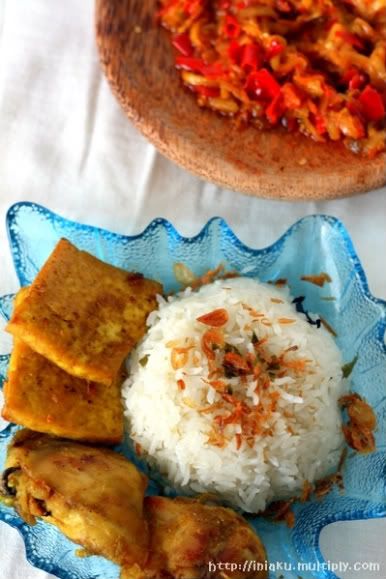 By the way, this rice was also made to celebrate the successful of my beloved best friend Nana in gardening. Houisssssssssss!! (Ya ya.. actually I said it to tease her *LOL*)



Ingredients:


2 cups of Jasmine rice
2½ cups of coconut milk
Vegetable oil for sautéing
1 pandan leaves, shredded
3 Indonesian bay leaves (

daun salam

)
Salt as needed



Side Dishes:


Yellow fried chicken
Yellow fried tofu
Mango chili paste



Garnish:




Bawang goreng

(fried onion)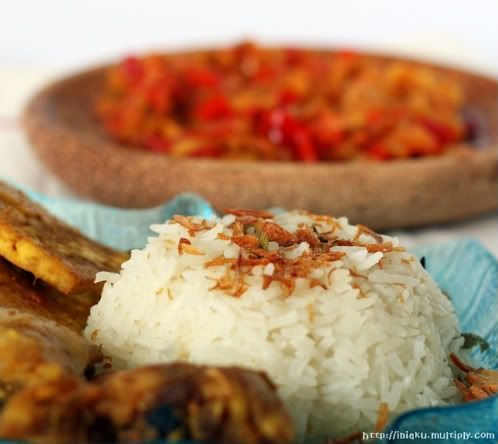 Methods:
1. Heat small amount oil in a skillet. Stir fry the rice until the color change into white. Turn off the heat.
2. Place rice into rice cooker. Add coconut milk, pandan, bay leaves and season with salt. Mix well. Cook until set.
3. Serve hot with the side dishes. Garnish with fried onion.