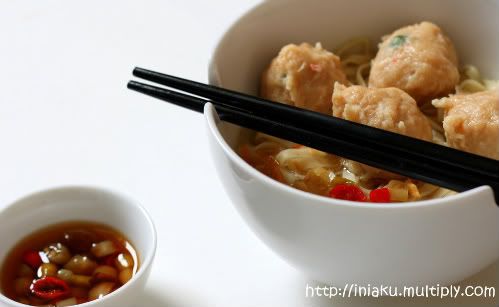 Just another old recipe that I created in last couple months. I formed the siomay into ball to shorten the time and to feel like eating bakso (meat ball). That's why I added tapioca flour into the dough.
To make it different from
bakso
, I created the
sambal
too. This time I sliced the chilies instead of grinding. The result was not bad at all. Yummiee!!

Ingredients:


Shrimp Noodle:


4 rolls of dried shrimp noodle, boil with water season with salt and oil, drained
White pepper powder as needed
Light soy sauce as needed
Sesame oil as needed



Siomay:


300 gr shrimps, finely minced
300 gr boneless chicken thighs, finely minced
125 gr tapioca flour
1 egg, slightly beaten
1 stalk of greeen onion, finely sliced
1 tbsp fish sauce
2 tbsp oyster sauce
1 tbsp sesame oil
Salt and pepper as needed



Soup:


Chicken bones
Water
Garlic, bruised
Salt, pepper and sugar as needed
Vegetable oil





Sliced Chili Paste:


Bird eye chilis, ring sliced
Cooking vinegar
Light soy sauce
Fish sauce
Salt and sugar
Warm water



Garnish:


Green onion
Fried onion



Methods:




Shrimp Noodle:


1. Combine pepper, sesame oil and light soy sauce in a bowl. Mix well.
2. Add shrimp noodle. Mix well and set aside.



Siomay:


1. Boil water over moderate heat. Don't let it over boiled.
2. Mix all the ingredients. Form into ball using 2 pieces of table spoons. Add into boiling water until floating. Set aside.



Soup:


1. Cook the bones until boil in a toft.
2. Heat oil in a skillet. Sauté garlic until fragrant. Add garlic into the boiling bones.
3. Season with salt, pepper and sugar. Continue cooking until boiling.



Sliced Chili Paste:


Boil all the ingredients until set.





Serving Suggestion:


Place noodle in a bowl. Add siomay and laddle the soup. Garnish with fried onion and green onion. Serve when hot with sliced chili paste.