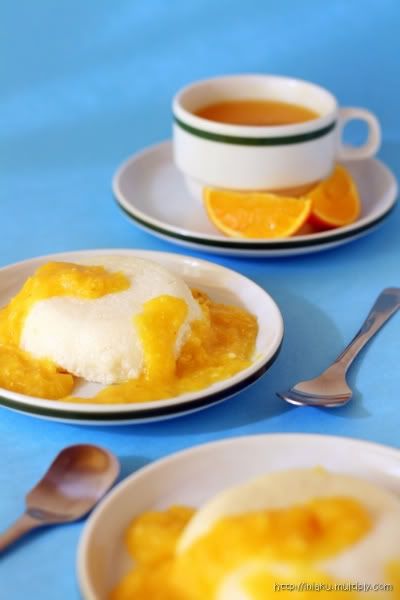 Finally I won against my laziness in photographing my food. Didn't know what's wrong with me, but lately I just didn't have that spirit in capturing all dishes I made. Frankly I almost gave up in joining Sugar High Friday this month. Everything is done, only need me to push the shutter. But hey.. thanks God, I made it.
This is my second time participating in Sugar High Friday (
this was my first
).

Sugar High Friday
or shorten as
SHF
is an event created by
Jennifer, the
Domestic Goddess
and this month, SHF is hosted by
Helen of Tartelette
. She chose
Citrus
as the theme, read more about it in this link:
Announcing Sugar High Friday #43: Citrus!
Today is the last day for submitting your entry (yup, May 25th is the deadline).

Normally I bought this semolina pudding in the supermarket nearby. It has different kind of sauce such as strawberry, maracuja, peach but never of orange. Being bored of buying since I know by making it myself will be cheaper, I started to make my own. The recipe of semolina pudding I got from a famous German culinary magazine,

Essen & Trinken

. But for the orange sauce, I created by myself.

This dessert is a perfect choice for spending your hot spring time!

Grieß or Semolina is the inner, granular, starchy endosperm of wheat (not yet ground into flour). There are two main types of semolina. Durum semolina, made from hard wheat, is used to make pasta and couscous. Soft wheat semolina, also known as farina or by the trade name Cream of Wheat, is used as a hot breakfast cereal and for desserts such as semolina milk pudding. In North India, semolina is known as suji; in South India, rava. (Wikipedia)



Ingredients:




Grießpudding

(Semolina Pudding):


500 ml milk
3 tbsp sugar
50 gr

Weichweizengrieß

(soft wheat semolina)
1 egg white



Orangensauce

(Orange Sauce):


6 Greek Oranges
1 tbsp sugar
1 tbsp lemon juice
2 tsp cornstarch dissolved with 1 tbsp lemon juice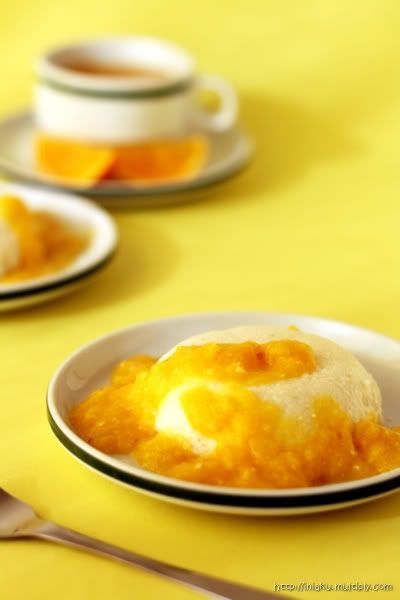 Methods:


Grießpudding

(Semolina Pudding):


1. Boil milk and sugar. Add semolina gradually and stir using whisker. Let it simmer over moderate heat for 2 minutes. Remove from the heat.
2. Beat the egg white with mixer on high speed until it form stiff peaks. Fold into semolina mixture. Mix well using spatula or whisker.
3. Spoon the mixture into pudding mold (don't forget to wash the mold with cold water). Let it cold.
4. Store in refrigerator.



Orangensauce

(Orange Sauce):


1. Blend the orange meat. Boil over small heat. Add sugar and lemon juice.
2. Add cornstarch mixture. Mix and continue boiling until thicken. Remove from the heat.
3. Refrigerate before serving.





Serving Suggestion:


Place pudding on dessert dish. Serve with orange sauce.