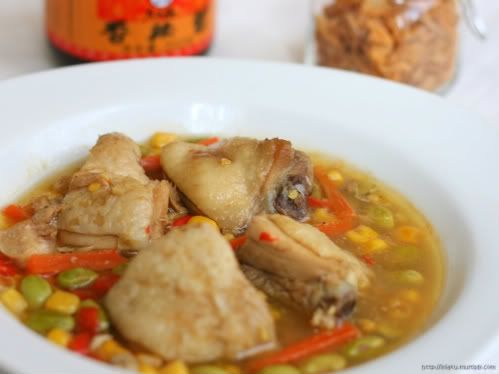 To be honest, I'm now in a state of being lazy. It's been months that I've only cooked simple things, and if I did cook something special, I didn't have mood to photograph it. Lazy lazy lazy ;)
I need a vacation after
Prague
last month. Hmm actually I need to be home. I miss Jakarta badly and miss my family beyond compare.
This chicken soup was a result of my laziness last two weeks. I just want to make something simple and easy without thinking how much spices should I use. As always, if you are interest to try my recipe, please use your own measurement.

I used the leftover vegetables from this salad. Since I used the chicken's skin, I added ginger to reduce the smelly odor.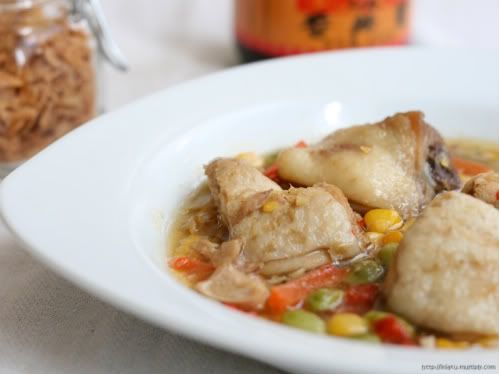 Ingredients:
4 chicken thighs, clean and boil by adding vinegar and salt into the water, cut as desired potong
4 tbsp soy bean (the green color)
2 tbsp corn kernel
1 carrot, peeled, cut julienne
1 big red onion, finely sliced
3 cloves of garlic, finely chopped
1 knucklebone ginger, finely chopped
6 red chilies, ring sliced
3 tbsp oyster sauce
1 tbsp light soy sauce
1 tbsp palm vinegar (or any kind of vinegar)
Salt and sugar as needed
Black pepper powder as needed
2 cups of chicken broth (from boiling the chicken)
1 tsp sesame oil


Methods:
1. Heat oil in a wok pan. Sauté garlic, red onion, ginger and red chilies until fragrant and cooked. Add oyster sauce, stir fry for about 1 minute.
2. Add chicken, cook until the spices well blended.
3. Pour into chicken broth. Add light soy sauce, palm vinegar, salt, black pepper powder and sugar. Mix well and boil over small heat.
4. Add carrot, soy bean and corn kernel. Cook until set.
5. Add sesame oil. Stir for a while and remove from the heat.