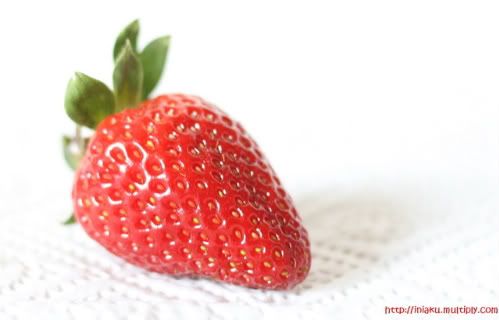 Lonely Strawberry
- CLICK: April 2008 - Au Naturel

Taken on April 4th, 2008

Canon EOS 400D - Canon EF 50mm f/1.8

1/50 at f/2.2 - ISO 100 - Flash Off - Handheld
When I realized that half of strawberries I bought have turned bad, I directly saved the rest by transforming them into strawberry sauce. But before I did that, I captured them for memory *LOL*

After taking and uploading the pictures in my primary blog, by chance I read the announcement about CLICK April 2008 from IMBB, I thanked myself *narcissist mode on .

It's been a long time I haven't took part in foodie event since I deleted my old blog by mistake. Now, I feel like join one.

The theme of CLICK in April 2008 is Au Naturel. Perfect right, since it said we have to submit the picture of food in it's natural state, as it comes from the farm, forest, pasture or the sea.

Though in my home country we have strawberries, but the taste is different. Uncle Wiki said that strawberry varieties vary remarkably in size, color, flavor, shape, degree of fertility, season of ripening, liability to disease and constitution of plant. Some vary in foliage, and some vary materially in the relative development of their sexual organs. In most cases the flowers appear hermaphroditic in structure, but function as either male or female.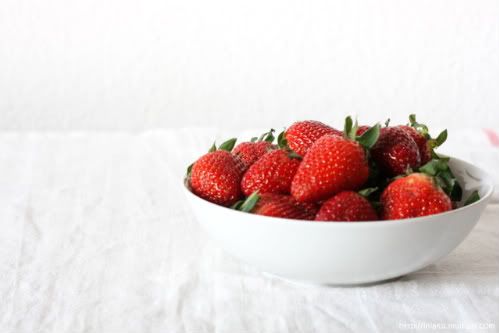 Not only different from taste, but also different from price. Back home strawberries were very expensive (I said were because I don't know the current price nowadays, since almost 2 years I haven't gone home). Strawberries in my country are fancy fruit while here in Germany, they cost 1 Euro (during the season) for 500 grams. Quite cheap, no!

I took all the pictures early in the morning as the sun shone brightly through my bed room window. I made some experiments by increasing and reducing the exposure bias number in my camera. I cropped the picture by Picasa and labeled it by Zoom Browser EX.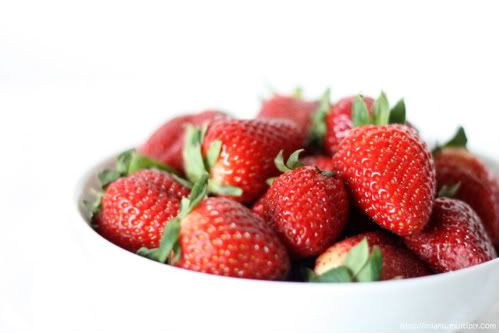 Though the result were far from perfect, but I love them. I know that I still have to learn a lot in making a good photo. Still life photography is not easy anyway ;)

More photos are available in album:

Strawberries: Sebelum Layu