There were times when I addicted watching a Kungfu series. Watching the actress and actors were eating Chinese foods made me salivated. This meal was the result of too much consuming Kungfu series :D
I substituted the use of rice wine by mixing cooking vinegar and light soy sauce/salty soy sauce (or we called it as
kecap asin
in Bahasa). Since I used the fermented black bean in garlic sauce, I reduced the amount of it.
The result was not bad at all.
Recipe source:
Mapo Tofu - Nook and Pastry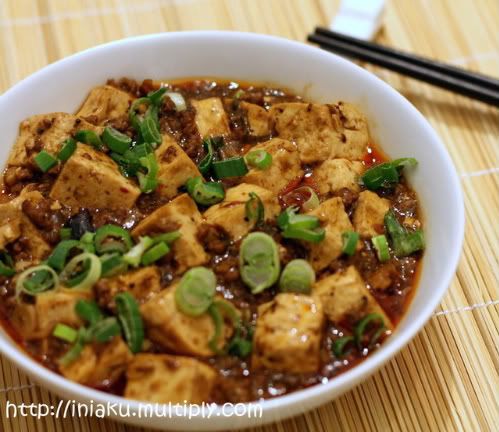 Ingredients:
500 gr soft tofu (not silken tofu), diced
250 gr ground beef
3 tbsp chili bean paste
1½ tsp Sichuan peppercorns, baked in the oven, grind
1 tbsp light soy sauce/salty soy sauce
mixture of 1½ tsp cooking vinegar and 1½ tsp light soy sauce/salty soy sauce (as rice wine substitution)
½ tbsp fermented black bean in garlic sauce
3 slices of fresh ginger
2 stalks of green onion, finely sliced, separate the white part and green part (reserved some for garnishing)
2 cloves of garlic, finely chopped
White pepper powder as needed
Granulated sugar as needed (original recipe using brown sugar)
1½ cups of beef stock (1½ cups of warm water + ½ block of beef stock) -- original recipe used chicken stock
Vegetable oil as needed
1 tbsp cornstarch, dissolved in 2 tbsp water
Salt as needed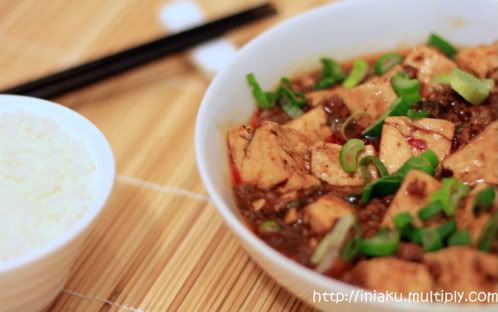 Methods:
1. Heat oil in a frying pan. Stir fry ground beef until brown. Sieve the beef to render the fat and oil. Set aside.
2. Heat oil in a wok pan over a moderate heat. Sauté the white part of green onion, ground Sichuan peppercorns and ginger slices until fragrant.
3. Add ground beef, chili bean paste, chopped garlic, fermented black bean, light soy sauce, mixture of light soy sauce and cooking vinegar, pepper and sugar. Cook and stir frequently for about 1-2 minutes.
4. Add tofu, green part of green onion, beef broth and boil by stirring occasionally for 15 minutes. Add cornstarch mixture and reboil until thickened. Remove from the heat.
5. Place in a serving dish, garnish with green onion. Serve with steamed rice.