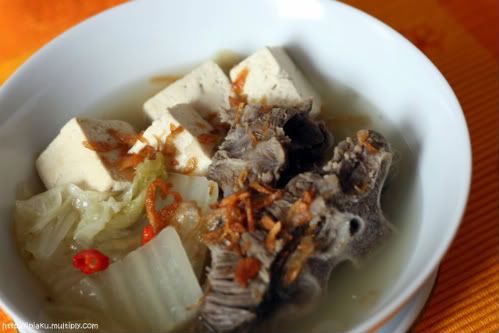 Actually I wanna quit from making English foodblog after I deleted
my old kitchen
by mistake. I have my recipes page in
Multiply
, so why bother making a new one?
But after some begging-on-knee-request (nobody knelt down tho) from my non-Indonesian friends, I reconsider it. I told them that I might not update this blog frequently and they agreed. For them, as long as they can read my recipes in language that they understand, it doesn't matter.
Well, then here I am, writing you my new recipe that I created two days ago after recovering from sickness. It's simple and easy to make. I served it when some friends came last night to visit us. They said it's tasty and I believe that they were being honest *smile*



Ingredients:


8 pieces of beef knee (with bones)
1 block of tofu, diced
6 leaves of Chinese cabbage, diced
2 Indonesian bay leaves
2 lime kaffir leaves
4 small red onion, finely sliced
2 cloves of garlic, finely sliced
2 red chilies, ring sliced
3 cardamom, bruised
1 knuklebone galagal, bruised
1 lemongrass, halves, bruised
½ block beef stock
1 tbsp fried red onion
Salt, white pepper powder and sugar to taste
Water



Garnish:


Fried red onion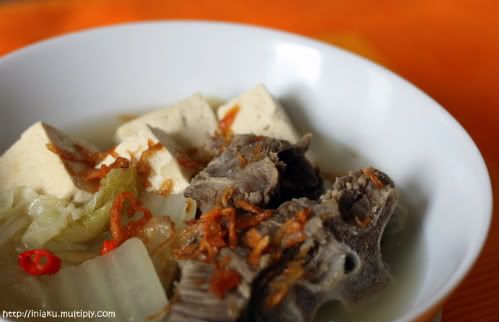 Methods:
1. Boil tofu in beef stock water until half cooked. Set aside.
2. Boil beef knee with pressure cooker for 3o minutes.
3. Add boiled tofu and the water into pressure cooker. Add all the spices. Mix well.
4. Boil over small heat until the spices well blended.
5. Add Chinese cabbage, cook until soft. Season with salt, white pepper powder and granulated sugar.
6. Add fried red onion. Mix for a minute and turn of the heat.
7. Serve with steamed rice or pita bread. Garnish with fried onion.