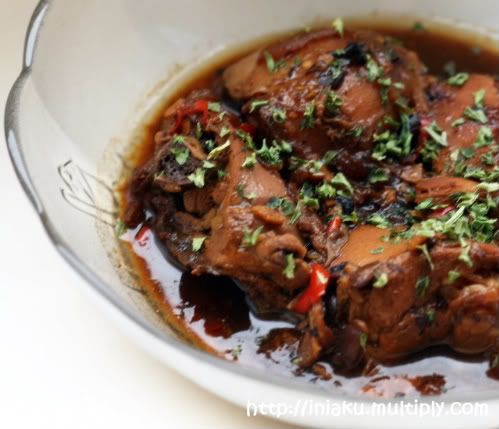 Iniaku
is my id in
multiply
. Everytime I cooked something created by me, I always named it with that id. My creativity mostly came whenever I was lazy. See, being lazy was not that bad, right ;-)
I cooked this chicken inspired by my best friend,
Nana
. She told me that she had grilled chicken with salted yellow bean as dinner. Aha! I used black bean garlic sauce instead of salted yellow bean since it's available in my refrigerator while the other one not. So this is the result of my laziness.
Note:
Fermented black bean garlic sauce is already salty, so it's better not to use salt.
Tausi - Black Bean Garlic Sauce
(picture courtesy of:
www.asiamex.com)
Ingredients:
2 chicken thighs, boil by adding small amount of salt and cooking vinegar, cut as desired
1 onion, ring sliced
1 clove of garlic, finely sliced
4 red chilies, angle sliced
2 tbsp tausi (fermented black bean garlic sauce)
2 tbsp thick soy sauce (kecap manis - as usual, I used Kecap Bango)
3 big spoon (around 450 ml) chicken broth (broth from boiling the chicken)
Pepper and sugar as needed
Lime juice as desired
Cooking oil
Methods:
1. Heat oil in a wok pan. Stir fry onion until fragrant. Add garlic and red chilies. Sauté until wilted.
2. Add tausi, sauté until fragrant. Add chicken and continue cooking over moderate heat until the spices well blended with the meat.
3. Pour into chicken broth, thick soy sauce, pepper and sugar. Boil over a small heat.
4. Add lime juice. Reboil for a minute or two. Remove from the heat.
5. Ready to serve with steamed rice or pita bread (Arabic bread).